02/16/2023 by Carney Sandoe Staff | Conferences A Day in the Life of a Candidate at a Conference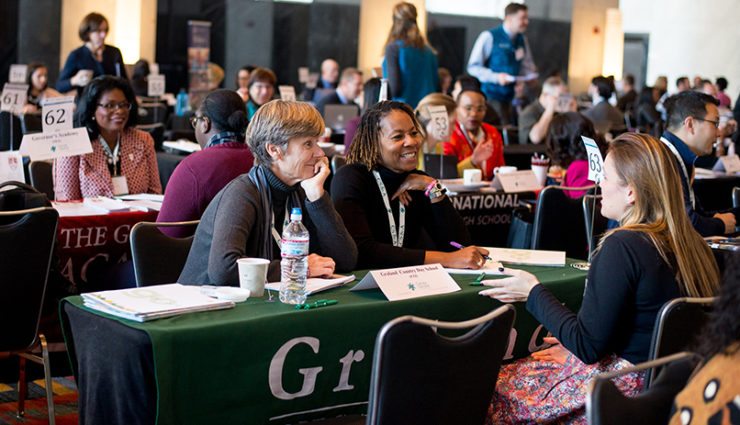 Until you've been to a CS&A hiring conference in-person, it's a bit hard to imagine exactly what your experience will be like. We've taken out the guesswork and outlined an example of what a day at one of our conferences might be like.
It's worth noting that not everyone's experience is the same. A lot depends on the actual conference itself (regional or national), the type of positions you're interested in (highly competitive or not), the time of year of the conference, and other factors, but we hope this provides a general idea of a day in the life of a candidate at a hiring conference.
7:30 AM
Because it's better to be early than late, you arrive at the conference space at the hotel to check in at the candidate registration table, get the lay of the land, and settle in, even though your first interview may not be right at 8:00. You grab some coffee and find a spot in the quiet yet comfortable candidate room (or surrounding hallways or atrium, depending on the conference) to check the Conference Module for any last-minute schedule changes and gather your thoughts before your interview.
9:00 AM
Interview time! You've made sure to look up the table number for the school you are interviewing with (find that in the Conference Module or on the large T.V. screens, depending on the conference) so you know where to go. A few minutes before your interview, you head into the school room to look for the school's table. Another candidate is interviewing at the table, so you wait at the front of the room for them to finish up. When they're done, you head to the table, introduce yourself, and sit down for your 25-30-minute interview.
9:30 AM
Your first interview is done and you're feeling great. Your next interview isn't until later in the day, so you use the free time to seek out your Placement Team to talk in-person about your job search. You update your Associate on how your first interview went and discuss the rest of the day. A few schools you are interested in, but don't have interviews with, are at the conference, so your Associate recommends you use the Message Center in the Conference Module to send the school a message stating your interest. It is not advised that you go up to a school's table to introduce yourself, as most schools have full and busy schedules at the event.
11:30 AM
With more interviews on your schedule for the afternoon, you take a break to find some lunch. Lunches are generally not provided at hiring conferences (unless noted), but a quick search on Yelp! or Google always yields good options.
12:30 PM
A school suddenly schedules an interview with you at 1:00! Good thing you were vigilantly checking the Conference Module for any updates to your schedule. While you aren't entirely interested in the school's location, you make a smart choice to move forward with the interview instead of cancelling it. You don't want to miss an opportunity to learn about a school, talk with a hiring contact, and build your network – you never know where that dream job could be hiding!
1:30 PM
Your interview is over and you have some downtime. Lucky for you, there is a panel on resume best practices happening right now! You pop into the room to get all the best tips and tricks from CS&A team members, the resume experts.
3:30 PM
You've had an afternoon of back-to-back interviews, including the one that was scheduled last-minute (which you ended up really liking!). You seek out your Placement Associate again to share the good news about your interviews, and discuss next steps and what you can expect post-conference in terms of follow up. A question about thank-you notes comes up. Your Associate says hand-written notes are nice, but it's also a good idea to send an email (regular email, not a message through the Conference Module) in the coming days so school contacts have a way to reply to your note easily.
4:00 PM
That's a wrap! While it was a busy day for you, you're really happy you attended this free event for CS&A candidates. Where else do you have the opportunity to build relationships with multiple schools, engage in professional development designed to assist your job search, and meet with your Placement Team in-person so they can better advocate for you?
If you're an active CS&A candidate, register for one of our upcoming hiring conferences today in CandidateConnect.
Not a current candidate? Apply to work with us today to gain access to our free hiring events.
6 Comments