11/13/2019 by Carney Sandoe Staff | Conferences 8 Reasons to Work at a Boarding School
Working at a boarding school is different from teaching and working anywhere else, and can be one of the most rewarding parts of an educator's career. Boarding schools are self-contained communities. Students and faculty eat together. They share relaxing times watching TV and playing games together. These schools are immersive environments, not just for the students who live there, but also for the teachers and staff who work (and often also live) there too. It is a way of life more than it is a job.
Part of what makes these schools so distinctive is the time and care faculty and staff put into their students. In addition to creating rigorous learning environments in the classroom, teachers and administrators in a boarding school function in loco parentis, meaning they take the place of parents literally and figuratively. They play a powerful role in shaping and guiding students, and serve as strong role models, confidants, and advisors. Because students don't physically leave the school at the end of classes, they cannot avoid the strong influence teachers have on them.
While each boarding school is unique, they all are incredible places to work, play, live, and make a difference. The infographic below outlines just a few of the many reasons boarding schools are favored by teachers of all ages and experience levels. (Also check out our staff members' testimonials about working in boarding schools.)
If the boarding school way of life sounds right for you, register today to attend CS&A@TABS, a free national hiring conference on December 6, 2019 in Boston exclusively for CS&A candidates who are interested in working at boarding schools. Not a current candidate? Apply now to work with us in order to gain access to our events!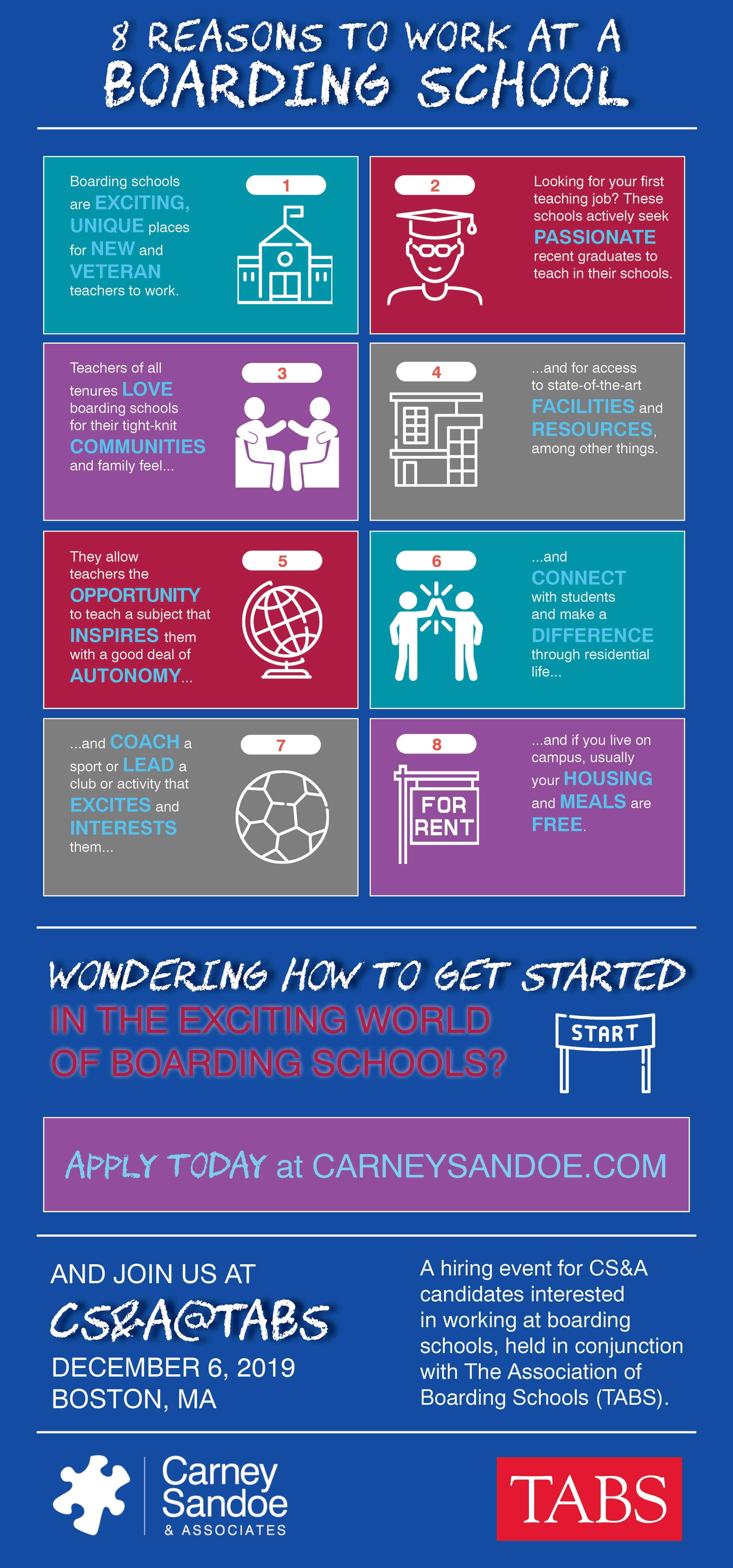 1 Comment