03/07/2023 by Carney Sandoe Staff | Landing the Job It's Not You, It's Me: Telling Your Current School You're Searching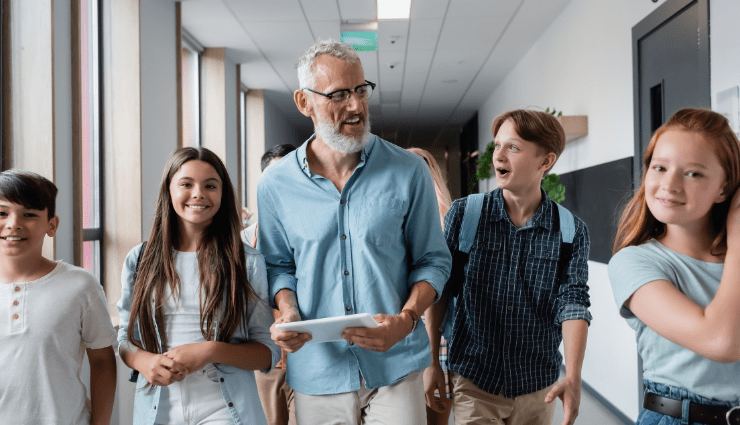 The jig is up.
If you're searching for a new position — for whatever reason — broaching that topic with your current school is a necessary, if uncomfortable, thing to do.
You might feel awkward telling your administration you're thinking of leaving. You might decide you'll just wait until you get another job offer to break the news. Don't.
There are several reasons you should tell your current school you're searching — and, often, your mantra should be "the earlier the better." Here are a few things to keep in mind.
Consider the Potential for Awkwardness
As independent school hiring season moves into high gear, the potential to create an awkward situation by not telling your administration rises. Consider this: your school does not know you're planning to leave, and you run into a top administrator at one of Carney Sandoe's hiring conferences. As you stumble through that uncomfortable conversation, you'll likely wish you'd been more transparent.
We work with candidates who've told their schools they're searching, attended a conference their school was also attending, interviewed with other schools, and either moved on to a new position or returned to their current school. Schools get it: they know you need to consider the best opportunity for you, and they don't consider you beholden to them for life. They'll likely appreciate your transparency.
Put Yourself in Their Shoes
If your administration discovers you've decided to pursue new opportunities, they might be disappointed. But disappointed is a much different sentiment than panicked or frustrated. When schools move into hiring season, it's helpful to know how serious their teachers and administrators are about their plans to stay. They'll be much more understanding — and happy for you if you accept a new position — in February than they will be in May, when they need to scramble to fill your job. The negative sentiments derived from this situation could be far more detrimental to your career than a brief uncomfortable conversation early on.
Take your cues from the school: when they broach the topic with you by asking if you'll sign a letter of intent, for example, bring up your thoughts and plans. They'll appreciate your candor.
Be Honest
It's best to be as upfront as possible with a school, particularly if you're not leaving because of personal dissatisfaction with your position or administration. If you're leaving because your spouse is relocating and you need to move with him or her, your administration will understand. If you're interested in trying out a different type of role or a new location, your administration will also understand — they're people too!
The situation gets slightly trickier if you are not happy in your current school. If you need to search confidentially, Carney Sandoe will help you to the best of our ability and will tell schools to which we refer you that your search is confidential. We can't, however, make any guarantees that your current school won't learn about your search through the grapevine. If you're not comfortable telling your head of school just yet, we do recommend confiding in at least one key administrator. This can make your personal search much more manageable — and can help preclude drama down the line.
Let Them Help You
Remember: your current administration will likely be key players in your search. Tell them your plans to look for a new opportunity and allow key administrators to serve as references for you. These colleagues will best be able to portray your current successes in and out of the classroom. If you don't list any references from your current school, that can be a red flag to a prospective employer.
Remember: by searching for a new position, you're not doing anything wrong — and schools know that. Be honest about your intentions earlier rather than later, so your relationship with your current administration can continue to be a positive — and mutually beneficial — one.
Are you thinking about an upcoming job search? If you've worked with Carney Sandoe in the past, simply log back into your CandidateConnect account to update old information, change your status to "Actively Looking," and reach out to your Placement Team.
If you're new to Carney Sandoe, let's get started! Fill out our job seeker application today.
0 Comments
There are no comments on this blog entry.